Safety
Safety is not only our top priority, it is at the core of everything we do at Crescent Womb®. Our sleep system has been rigorously safety tested and meets or exceeds all safety standards. Below is a list showing all our components and certifications levels. Crescent Womb's patented design is the ONLY infant bed of it's kind.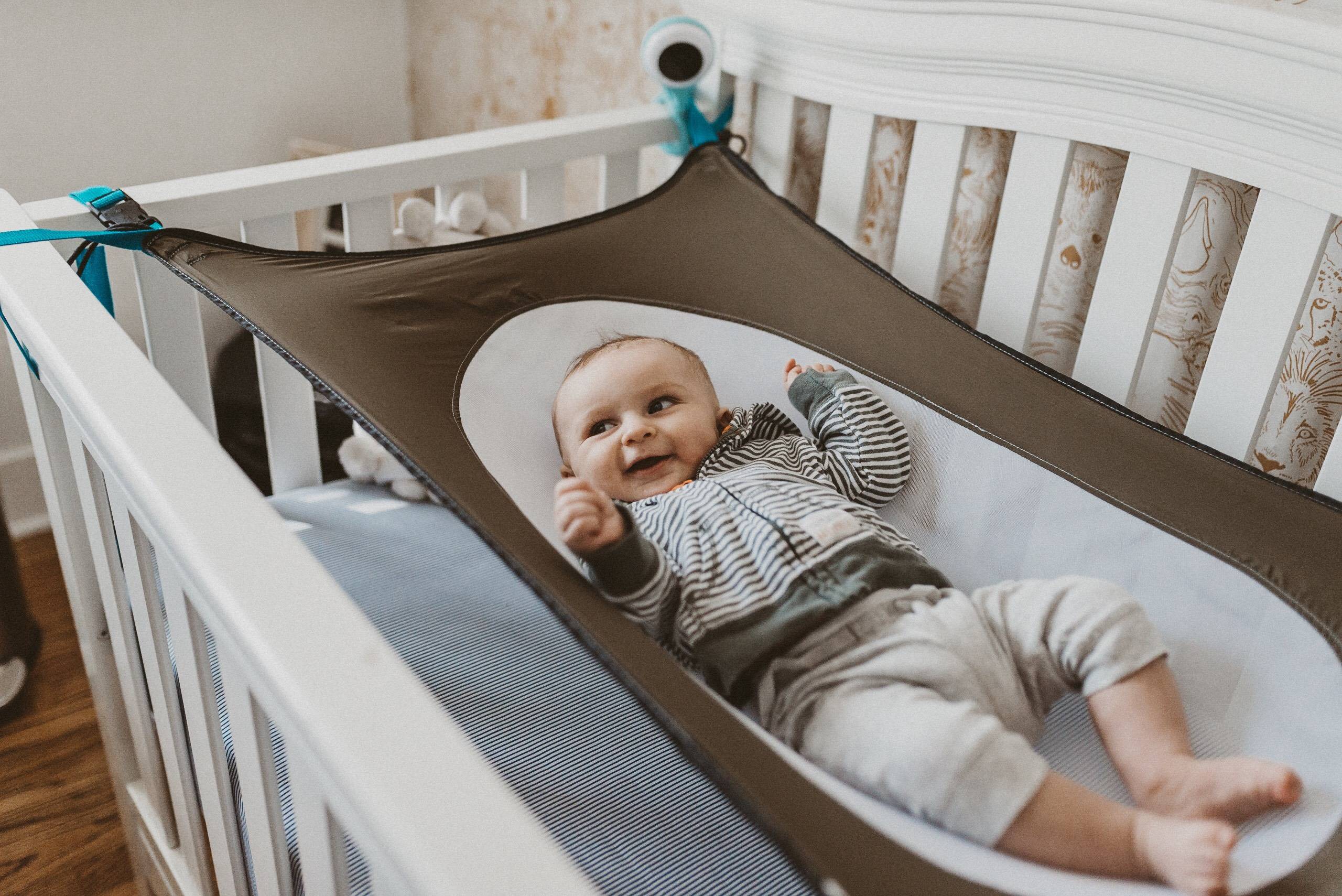 Do NOT purchase DIY or counterfeit products as none have been safety tested and could be dangerous for your baby.
Dear Parents,  SIDS is not an easy thing to discuss... (read more)
It worries every parent of every newborn. It certainly worried me as a new father, and it is on the top of everyone's mind when trying to create a safer environment for infants. Despite the anxiety we all feel, it's important that we discuss SIDS and how to lessen risks.
No one really knows why SIDS occurs. There have been many studies and theories. Some experts say that SIDS may stem from babies breathing in harmful chemicals and low-level toxins found in the crib space and nursery. A 2008 medical research study from UC Berkeley and Kaiser Permanente indicated that improved ventilation and air circulation within the nursery—and especially in the immediate crib area—may reduce the occurrence of SIDS by as much as 70%.
There are several steps you can and should take to reduce SIDS risks for your newborn:
Ensure that nothing in your nursery contains harmful chemicals or other toxins.

Make sure the air in the nursery is moving and refreshed. Simply adding a fan can help immensely.

Remove anything within the crib that might block or impede airflow -- especially anything that might get bunched up around baby's face. Crib bumper pads, crib pillows, blankets and stuffed animals are all on this list.

Choose a sleep environment designed to reduce SIDS risks as you understand them.
These 4 items are of the utmost importance. Please, STOP reading right now and if you haven't already please do the above items.
The Kaiser study found two major factors of air circulation that impact your child as they sleep: air quality and body temperature. Crescent Womb focuses most on the elimination of these two risk factors in your baby's sleep environment.
Effective ventilation moves exhaled CO2 (carbon dioxide) away from your baby's face and allows fresh, oxygenated air to surround your little one. It also dissipates hot air around your baby, significantly reducing the risk of overheating.
The design and materials of your baby's sleep environment play a vital role in moving and freshening that stale or still air.
Crescent Womb was designed to circulate oxygen-enriched air moving freely around your baby's face and we've chosen non-toxic materials to keep the air in the crib as pure as possible.
We did all of this in an effort to reduce environmental factors associated with SIDS cases.
Crescent Womb was developed to make sure your baby is safe, healthy and comfortable as they rest. We can't claim to prevent SIDS, no product can. However, we can tell you that our Infant Safety Bed will provide a 100% breathable sleep environment for your newborn.
Our mission here is to provide safe sleep for baby and restful sleep for you.
From our family to yours, thank you.
Sincerely,
The Crescent Womb Team
We have worked hard to create a product that provides a safe and secure place for your baby while they sleep. We are fully compliant with the CPSC and US Consumer Product Safety Improvement Act (CPSIA). Your peace of mind is extremely important to us and we want you to feel confident about using your Crescent Womb®.
All components tested above and beyond global standards for, and proven free from, harmful substances.

Tested for compliance with US Consumer Product Safety Improvement Act of 2008

16 CFR 1500 Tension tested for 'Normal and reasonably foreseeable use and abuse

16 CRF 1610 flammability testing

Phthalate testing CPSIA section 108 and California Prop. 65

Small parts and use and abuse testing under 16 CFR 1500.50

Heavy metal testing, exceeds all standards including California Prop 65.

California Bulletins 116 and 117 flammability testing.

California Proposition 65

16 CFR 1500.51-53 Part 5 Sharp Point/ Sharp Edge free

16 CFR PART 1500.53(f) (1-1-12) (CAN)

All materials and processes are free from SVHC.

CPSIA Section 101 for hazardous metals including lead.

CPSC 16 CFR 1501 Choking hazard free

16 CFR 1500.51-53 Part E-F Attachment strength pull and torque test for product and components.